TRAINING WAREHOUSE SAFETY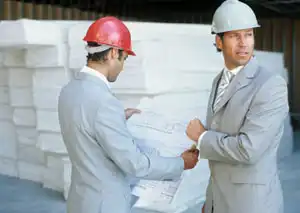 Banyak perusahaan belum memandang safety sejajar dengan produktivitas ataupun kualitas. Padahal, dewasa ini, safety merupakan hal penting dalam proses operasi perusahaan. Bahkan, menjadi salah satu persyaratan pelanggan yang harus dipenuhi.
Banyak teknik safety di implementasikan di perusahaan. Lalu, bagaimana penerapan safety dalam divisi pergudangan?
Padahal kegiatan di Warehouse melibatkan tugas yang penuh dengan resiko kesehatan dan keselamatan. Beberapa cedera dan penyakit dapat terjadi akibat pemotongan yang menggunakan pisau, luka bakar akibat listrik, mesin-mesin, lantai licin atau pencahayaan yang kurang, dsb. Permasalahan ergonomi banyak dijumpai disini. Demikian pula pajanan bahan kimia atau pestisida yang berakibat iritasi kulit, gatal, bengkak, dsb. Penggunaan Forklif atau alat-alat yang bertenaga mesin yang elektris dan alat-alat perlengkapan bertenaga baterei yang lain, cukup berisiko bagi pekerja.
Apalagi nyaris 30%-60% investasi perusahaan dalam bentuk persediaan : raw material, work in process, finish good, spare part, dan inventory lainnya. Maka demikian, implementasi program training warehouse safety, yang mencakup keselamatan barang, keselatan fasilitas, dan keselamatan karyawan, menjadi sangat penting.
Sasaran Program Training Warehouse Safety
Setelah mengikuti training warehouse safety ini, diharapkan peserta dapat memahami :
Faktor risiko bekerja di warehouse.
Mampu mencegah kecelakaan/injury maupun penyakit akibat kerja lainnya.
Memahami dan mengikuti praktek kerja aman.
Mampu memilih APD yang diperlukan.
Menerapkan program keselatamatan dan kesehatan di Gudang
Menciptakan gudang yang aman dan nyaman, sehingga produktivitas kerja dapat dicapai
Garis Besar Program Training Warehouse Safety
Maintaining high standards of safety
Common hazards and safety tips
Warehouse and terminals
Manual materials handling
Materials handling
Powered vehicles for moving and lifting
Materials storage
Work Environment
PESERTA TRAINING WAREHOUSE SAFETY
Yang perlu menghadiri training warehouse safety adalah karyawan Divisi warehouse, PPC dan Pengendalian Inventory, HSE practicioner, anggota P2K3, dokter dan paramedik yang ingin meningkatkan kompetensinya dalam bidang Warehouse Safety.
METODE TRAINING WAREHOUSE SAFETY
Metode training warehouse safety adalah presentasi materi, studi kasus, latihan, diskusi kelompok, game, presentasi kelompok
DURASI PROGRAM TRAINING WAREHOUSE SAFETY
Dua hari (Pkl. 09.00 ~ 16.30)
TRAINER TRAINING WAREHOUSE SAFETY
JADWAL TRAINING WAREHOUSE SAFETY : Please Call Us
INVESTASI TRAINING WAREHOUSE SAFETY: Please Call Us
FAQ ( Frequently Asked Question)
Silahkan klik link ini atau link Frequently Ask Question untuk mengetahui pertanyaan – pertanyaan yang sering dilontarkan seputar Training yang kami selenggarakan.
Please read our privacy policy
Phitagoras sudah disertifikasi ISO 9001:2015 oleh BSI dengan nomor sertifikat FS 669848 dan OHSAS 18001:2007 dengan nomor sertifikat OHS 669850

Share on Whatsapp