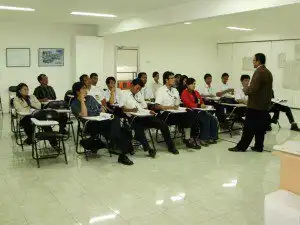 Training Warehouse Management
Pada tanggal 11 – 12 September 2009, Phitagoras Training memberikan training Warehouse Management untuk Batavia Air bertempat di workshop Batavia Air – Soekarno Hatta Airport. Training Warehouse Management tersebut dipandu oleh salah seorang Senior Consultant Phitagoras yaitu Bapak Dudung Duhara yang sangat berpengalaman dalam memberikan jasa training dan konsultasi untuk bidang Quality dan Productivity.
Materi Training Warehouse Management
Adapun materi training yang disampaikan pada training warehouse management ini adalah sebagai berikut:
Hari Kesatu :
•    Fungsi Gudang dalam Kegiatan Logistik
•    Mengapa perlu Gudang dalam perusahaan
•    Mengukur biaya-biaya akibat pergudangan
•    Mengoptimalkan Fungsi dari Gudang (Warehouse Optimizing)
•    Fungsi dari Gudang Penyimpanan (Functions of Warehousing)
•    Proses Penerimaan di Gudang (Incoming Process)
•    Penanganan Material di Gudang (Material Handling)
•    Sistem Penyimpanan Material di Gudang (Storage System)
•    Manajemen Persediaan (Inventory Management)
•    Pengendalian Kondisi Penyimpanan (Preservation Method)
•    Perencanaan Penyediaan Barang
Hari Kedua:
•    Pengendalian Inventory Gudang
•    Pengendalian Peralatan dan Utility Gudang: rak, pallet, forklift, bin card, ventilasi, pencahayaan, dan layout
•    Measuring Effectiveness and Efficiency
•    Penerapan manajemen visual
•    Manajemen Pergudangan dan 5S
•    Contoh Penerapan 5S  di Gudang
•    Langkah-langkah Penerapan Program 5S di Gudang
•    Pengukuran Kinerja (KPI) Gudang
Traning tersebut diikuti oleh kurang lebih 20 orang staff dan karyawan Batavia Air. Dan dari hasil kuisioner dapat terlihat bahwa para peserta training tersebut sangat puas dengan training tersebut. Terimakasih kepada Batavia Air, semoga training tersebut dapat bermanfaat bagi perusahaan.
Apabila bapak/ibu berencana untuk mengikuti public training warehouse management, silahkan menyesuaikan dengan jadwal training berikut:
Jadwal Pelatihan Manajemen Pergudangan 2012
Jakarta, 10 – 11 Mei 2012
Jakarta, 5 – 6 Juni 2012
Bandung, 17 – 18 Oktober 2012
Jakarta, 4 – 5 Desember 2012
Untuk informasi lebih lanjut tentang training warehouse management, silahkan menghubungi Phitagoras di 021 70270400 / 70303196 atau dengan mengisi form berikut ini

Share on Whatsapp