Inhouse Training HSE Risk Assessment, PT NSK Bearings Manufacturing Indonesia, Cikarang, 20-21 Februari 2019
Inhouse Training HSE Risk Assessment
Inhouse Training HSE Risk Assessment – Alhamdulillah, Phitagoras Training and Consulting selalu konsisten dengan kembali mengadakan Inhouse Training HSE Risk Assessment   sesuai dengan jadwal yang telah kami informasikan sebelumnya.
Pelaksanaan training berjalan dengan baik, lancar dan sukses. Inhouse Training HSE Risk Assessment ini berlangsung pada tanggal 20-21 Februari 2019 di  PT NSK Bearings Manufacturing Indonesia.
Materi training disampaikan oleh Trainer Suharti Agus
GARIS BESAR PROGRAM TRAINING HSE RISK ASSESSMENT
Risk Management Concept
• Risk based decision Support
• Decide who might be harmed and how
• Assessment and benchmarking of asset
• Asset Operation management
• Maintenance and Inspection Management
Identify the hazards
• Evaluate the risks and decide on precautions
• Hazard and Operability (HAZOP) facilitation
• Hazard Identification (HAZID) facilitation
• Failure Modes Effect and Causality Analysis (FMECA)
• Quantitative Risk Assessments (QRA)
• Fire and Explosion Analysis (FEA)
• Escape, Evacuation and Rescue Analysis (EERA)
Lanjutan : Hazard Identification
• Emergency Systems Survivability Analysis (ESSA)
• Layer of Protection Analysis (LOPA)
• Plant and process failure incident investigations and root cause analysis
• Safety Integrity Level (SIL) studies
• Ergonomics assessment.
Case Study : Risk Management
• Record your findings and implement them
• Review your assessment and update if necessary
• Risk Assessment Reporting
• Risk Assessment Tools and formatting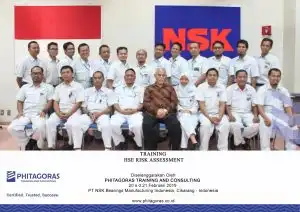 Traning tersebut diikuti oleh  25 orang staff dan karyawan PT NSK Bearings Manufacturing Indonesia. Dan dari hasil kuisioner dapat terlihat bahwa para peserta training tersebut sangat puas dengan training tersebut. Terimakasih kepada Batavia Air, semoga training tersebut dapat bermanfaat bagi perusahaan.
Semoga apa yang didapat dari Inhouse Training HSE Risk Assessment  ini bisa bermanfaat bagi bapak/ibu sekalian dan perusahaan tempat bekerja. Sampai jumpa di training – training lainnya yang diselenggarakan oleh Phitagoras Training and Conslulting.
Apabila bapak/ibu berminat mengikuti  dapat menghubungi kami langsung di :

Phitagoras Training and Consulting
Ruko Golden Boulevard Blok Q no 19, Jl. Pahlawan Seribu – BSD City Serpong, Tangerang Selatan-15322
Telp : 021 – 53161424, 021 – 53161425
Email: info@phitagoras.co.id
Baca selengkapnya mengenai  :  Inhouse Training HSE Risk Assessment

Share on Whatsapp