Training ISO 31000:2009 Risk Management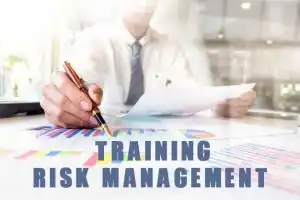 Training ISO 31000:2009 Risk Management
Menurut SAEAS 9100 C (Society Automotive Engineers Aerospace Standards) produksi maupun proyek sebagai kegiatan suatu industri organisasi harus merencanakan dan mengelola realisasi produk secara terstruktur dan terkendali untuk memenuhi persyaratan serta risiko yang dapat diterima. Oleh karena itu diperlukan proses manajemen risiko dalam setiap tindakan dan keputusan agar tujuan industri atau organisasi dapat tercapai. Hubungan yang kuat antara risiko dengan pencapaian tujuan menimbulkan kesadaran mengenai pentingnya manajemen risiko yang telah menghasilkan berbagai macam standar mengenai manajemen risiko di barbagai negara, seperti di Australia dan New Zealand AS/NZS 4360:2004; Canada CAN/CSA Q850-97; Jepang JIS Q_2001; Amerika Serikat NFPA 1600 dan COSO-ERM Integrated Framework; United Kingdom BS 6079-3:2000. Dengan adanya berbagai standar manajemen risiko dan konsensus global tentang manajemen risiko, maka International Standard Organization mulai menyusun sebuah standar manajemen risiko, yaitu ISO 31000 Risk Management – Guideline on principles and implementation of risk management. Setelah melalui proses voting dan revisi dari semua anggota ISO, standar ini diluncurkan menjadi standar internasional.
Materi Training ISO 31000:2009 Risk Management
1. Menentukan Konteks
2. Identifikasi Risiko
3. Analisis Risiko
4. Evaluasi Risiko
5. Perlakukan Risiko
6. Komunikasi & Konsultasi
7. Monitoring & Review
Tujuan Training ISO 31000:2009 Risk Management
1. Peserta pelatihan akan mampu memahami Prinsip-Prinsip Manajemen Risiko
2. Peserta pelatihan akan mampu memahami kerangka kerja manajemen risiko
3. Peserta pelatihan akan mampu memahami proses cara mengelola risiko
JADWAL TRAINING ISO 31000:2009 Risk Management 2019
Jakarta, 30 – 31 Januari 2019
Jakarta, 1 – 2 April 2019
Jakarta, 4 – 5 Juli 2019
Jakarta, 9 – 10 Oktober 2019
Jakarta, 11 – 12 Desember 2019
INVESTASI TRAINING ISO 31000:2009
Rp. 4.999.000,-  Rp. 3.999.000,- 
Rp. 3.499.000,- (Pendaftaran & Pelunasan 1 minggu sebelum training)

Gratis orang ke 5, untuk pendaftaran 4 orang dari satu perusahaan

Fasilitas Training: Modul Training yang berkualitas (hardcopy dan softcopy), Training Kit, Souvenir, Tempat training yg nyaman di hotel berbintang, Makan Siang, coffee / tea break, Sertifikat, Foto bersama seluruh peserta

FAQ ( Frequently Asked Question)
Silahkan klik link ini atau link Frequently Ask Question untuk mengetahui pertanyaan – pertanyaan yang sering dilontarkan seputar pelatihan iso 9001:2015  yang kami selenggarakan.
Phitagoras sudah disertifikasi ISO 9001:2015 oleh BSI dengan nomor sertifikat FS 669848 dan OHSAS 18001:2007 dengan nomor sertifikat OHS 669850
Training ISO 31000:2009 Risk Management

Share on Whatsapp