TRAINING SIX SIGMA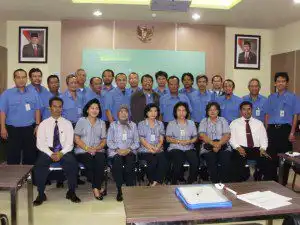 Phitagoras Training mendapatkan kepercayaan untuk memberikan training Six Sigma Champions: Managing and Leading Six Sigma Implementation untuk PT. Jasa Marga (Persero) Tbk. Training Six Sigma tersebut berlangsung pada tanggal 6 – 7 Januari 2010 di kantor cabang CTC (Cawang – Tangerang – Cengkareng) . Training tersebut di laksanakan oleh salah seorang senior consultant Phitagoras yaitu Dudung Duhara yang sangat berpengalaman dalam memberikan jasa training dan konsultasi untuk bidang Six Sigma serta topik Quality & Productivity lainnya.
Adapun tujuan six sigma ini adalah supaya peserta mampu:
Memahami pentingnya Six Sigma Quality bagi peningkatan kepuasan pelanggan dan kinerja perusahaan
Memahami teknik statistik dan tools teknis pendukung dalam implementasi Six Sigma Quality
Memahami metodologi dalam implementasi Six Sigma Quality
Memahami strategi implementasi Six Sigma Quality
MATERI TRAINING SIX SIGMA
Adapun materi yang disampaikan dalam training six sigma di Jasa Marga adalah sebagai berikut:
Konsep Six Sigma Quality
Infrastruktur Six Sigma Quality
Fokus Pelanggan
Konsep Critical to Satisfaction
Building Six Sigma Organization
Six Sigma Metodology : Define, Measurement, Analyze, Improve, Control
Aplikasi Tools pemecahan masalah dalam Six Sigma
Managing Six Sigma business improvement
Strategi Implementasi Six Sigma Quality
Latihan DMAIC Cycle
Training Six Sigma diselenggarakan dengan metode sebagai berikut: Presentasi materi, diskusi, dan latihan DMAIC cycle. Setiap peserta membawa scientific calculator serta menyiapkan  data-data tentang hasil pengukuran proses, sehingga training six sigma tersebut berjalan dengan praktis dan aplikatif
PESERTA TRAINING SIX SIGMA
Traning Six Sigma tersebut diikuti oleh kurang lebih 20 orang peserta. Dan dari hasil kuisioner dapat terlihat bahwa para peserta training tersebut sangat puas dengan training tersebut. Terimakasih kepada PT. Jasa Marga (Persero) Tbk, semoga training Six Sigma tersebut dapat bermanfaat bagi perusahaan. Dan training tersebut dapat meningkatkan produktifitas dan performance perusahaan.
JADWAL TRAINING SIX SIGMA
Apabila bapak/ibu ingin mengikuti training six sigma secara public ataupun mengadakan training six sigma secara in-house di perusahaan bapak / ibu, silahkan menghubungi Phitagoras di 021 70270400 / 70303196 atau dengan mengisi form dibawah ini.

Share on Whatsapp