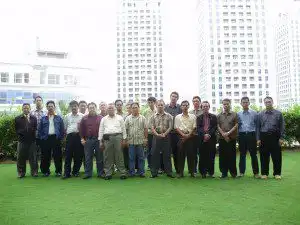 TRAINING ACCIDENT INVESTIGATION
Phitagoras Training mendapatkan kepercayaan untuk memberikan training Accident Investigation untuk CNOOC SES Ltd bertempat di Hotel Intercontinental Mid Plaza Jakarta yang berlangsung selama 2 batch yaitu pada tanggal 9 – 11 November dan 16 – 18 November 2009. Training accident investigation tersebut di laksanakan oleh salah seorang senior consultant Phitagoras yaitu Bapak Soehatman Ramli yang sangat berpengalaman dalam memberikan jasa training dan konsultasi untuk bidang HSE.
MATERI TRAINING ACCIDENT INVESTIGATION
Accident Concepts, include accident theory, type of incident, accident impact, relation between hazards and  risk, energy concept and accident prevention
Loss Causation Models from Frank Birds, including Domino Theory,  Loss Control process, Pre Contact, Contact, Pre Contact, IEDIM and ISMEC concept
Accident investigation , why investigation, role and responsibility, investigation technique and reporting system
Accident Reporting System
Accident Case Study
Traning Accident Investigation tersebut diikuti oleh kurang lebih 20 orang peserta dari CNOOC. Dan dari hasil kuisioner dapat terlihat bahwa para peserta training tersebut sangat puas dengan training accident investigation tersebut. Terimakasih kepada CNOOC SES Ltd, semoga training accident investigation tersebut dapat bermanfaat bagi perusahaan.
Apabila anda berminat untuk mengikuti training accident investigation secara public, silahkan mencocokkan jadwal anda dengan jadwal public training accident investigation di bawah ini:
Bandung, 22 – 23 Februari 2012
Surabaya, 19 – 20 April 2012
Bandung, 5 – 6 Juli 2012
Surabaya, 24 – 25 oktober 2012
Jakarta, 22 – 23 November 2012
Bandung, 20 – 21 Desember 2012
Training Accident Investigation tersebut akan di fasilitasi oleh trainer yang berpengalaman seperti dibawah ini:
Dr. Bambang Murtjahjanto, M.Sc, P.E. 
Berpengalaman dalam bidang HSE selama 30 tahun. Karirnya dimulai sejak menjadi HSE Engineer di Roy Huffington, Inc (Hufco – Badak) pada tahun 1982 – 1987, kemudian menjadi gas plant manajer di PT. Asahimas Flat Gas, Operation Manager di Dupont Chemicals, Inc USA dan beliau pernah juga menjabat sebagai South East Asia Manufacturing Manager di GE Power and Locomotive USA. Selain aktif sebagai professional HSE, beliau juga aktif dalam memberikan training dan konsultasi di bidang Quality, HSE dan Engineering termasuk untuk training accident investigation. Klien yg pernah ditangani diantaranya: PT. INKA, PT. Jawa Power, PT. Agaton Mandiri, PT. PAL Indonesia, McDermott Batam,  Chevron Pasific Indonesia, Kondur Oil Co, PT. Pertamina Drilling Service, Total Elf Senipah, JOB Pertamina – Talisman, dll.  Pendidikan formal beliau adalah: Instrumentation Engineering ITS – Surabaya, Master Graduate in Reliability Engineering dan PhD in Engineering System dari University of Century – Albuquerque NM USA.
Soehatman Ramli and Partner
Berpengalaman di bidang Occupational Health & Safety dan Environment selama lebih dari 35 tahun. Pernah menjabat sebagai EHS Manager, Marketing and Trading Pertamina. Saat ini aktif dalam memberikan training dan konsultasi dalam bidang Occupational Health & Safety dan Environment di berbagai perusahaan termasuk untuk training accident investigation ini. Klien yang pernah beliau tangani diantaranya Kondur Petroleum, BP Migas,Indonesia Power,Nippon Shokubai, Pertamina, Telkom, Blue Scope Steel. Beliau pernah menjabat sebagai Ketua Ikatan Ahli K3 Indonesia (IAKKI) sekaligus Ketua Penyusunan Standard Kompetensi K3 Indonesia. Pendidikan formal beliau adalah Teknik Kimia, selain itu juga mendapatkan gelar Dipl. Safety dari British Safety Council, serta Graduate of Safety Management Universitas Indonesia. Beliau juga adalah Lead Auditor OHSAS 18001 dan Iso 14001.
Phitagoras bekerjasama dengan KBA Training Singapore juga menyelenggarakan training Accident Investigation yang disertifikasi oleh IOSH UK. Informasi lebih lengkap mengenai training IOSH Accident Investigation ini dapat di lihat pada link berikut: https://phitagoras.co.id/iosh-accident-investigation.html
Phitagoras berkomitmen untuk memberikan training accident investigation yang berkualitas dan aplikatif.

Share on Whatsapp