Training Nebosh Oil and Gas Operational Safety
Alhamdulillah Phitagoras bekerjasama dgn KBA Training Centre Singapore telah menyelenggarakan Training Nebosh ITC in Oil and Gas Operational Safety angkatan ke XIV. Training NEBOSH ITC Oil and Gas tersebut di selenggarakan pada tanggal 9 – 14 Desember 2013 di Hotel Novotel Nusa dua Bali.
Peserta training NEBOSH ITC kali ini sangat beragam dan dari berbagai macam perusahaan, yaitu dari PT. Medco E&P Energi Indonesia (Dwiono Yuniarto, Tri Jaka Gatot Wibawa, Putranto Utomo Aluisius, Bramanti Dwi Prasetyo), PT. Teknika Regulindo Asia (Hari Asmuni, Kevin Gerhana Angga), Saipem Indonesia Karimun Branch (Guido Ravaioli), PT. Pertamina Hulu Energi ONWJ (Akhmad Tutus Harmantoro, Sudarwanto), Chevron (Diana Safitri), CNOOC (Jonny Patar Pasaribu), Inpex Corporation (RR. Indah Ken Nuranti), Petrotekno (Yulius Farani), JOB Pertamina Petrochina East Java (Abdul Gani Sugiri) serta beberapa nama peserta yang ikut secara personal.
Testimoni Training NEBOSH
Berikut beberapa testimonial yang kami kutip dari peserta training nebosh ITC in Oil and Gas Operational Safety :
"Overall training is very good, useful, applicable, and more benefit to improve knowledge relate to oil & gas operational safety, thanks alot." Tri Jaka, PT. MEdco E&P Indonesie
"I enjoyed this training, the support from phitagoras was good such as assistant in booking hotel, the choosing of hotel also the training class, Thank you very much." Sudarwanto, PT. Pertamina Hulu Energi ONWJ
Click here to see other testimonials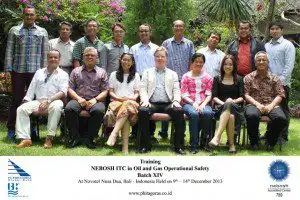 Share on Whatsapp