Training Nebosh Oil and Gas Operational Safety
Alhamdulillah Phitagoras bekerjasama dgn KBA Training Centre Singapore kembali menyelenggarakan Training Nebosh ITC in Oil and Gas Operational Safety angkatan ke XX. Training NEBOSH ITC Oil and Gas kali ini kembali diselenggarakan pada tanggal 15 – 20 Desember 2014 di Kuta Bali dan berlangsung di Kuta Beach Heritage Hotel, Bali – Indonesia.
Peserta training NEBOSH ITC kali ini sangat beragam dan dari berbagai macam perusahaan seperti PT. Chevron Pacific Indonesia, Talisman Malaysia Ltd, PT Meindo Elang Indah, PT Medco E&P Indonesia, Inpex Corporation, ENSCO, CNOOC, PHE WMO, TOTAL E&P Indonesie serta beberapa nama peserta yang ikut secara personal.
Terima kasih kami ucapkan kepada seluruh partisipasi peserta training NEBOSH ITC batch XX, semoga pada pengumuman kelulusan nanti semua peserta bisa lulus, aamiin. Dan semoga apa yang didapat dari Training Nebosh Oil and Gas Operational Safety ini bisa bermanfaat bagi bapak/ibu sekalian dan perusahaan tempat bekerja. Sampai jumpa di training – training lainnya yang diselenggarakan oleh PT. Phitagoras Global Duta.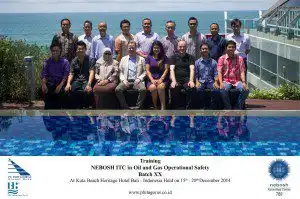 Share on Whatsapp