Training Nebosh Oil and Gas Operational Safety
Alhamdulillah Phitagoras bekerjasama dgn KBA Training Centre Singapore kembali menyelenggarakan Training Nebosh ITC in Oil and Gas Operational Safety angkatan ke XVI. Training NEBOSH ITC Oil and Gas tersebut kembali diselenggarakan pada tanggal 5 May – 10 May 2014 di lokasi yang berbeda yaitu di Hotel Aston Primera Pasteur, Bandung Indonesia.
Peserta training NEBOSH ITC kali ini sangat beragam dan dari berbagai macam perusahaan seperti Expro Group (Mochamad Rizal Bustomi), BP Berau LTD (Januar K Wargakusumah), Leighton Offshore (Yadi Kusmayadi), Medco Energi (Irvan Azmier), Pertamina (Geri Simansyah Achsan), Premier Oil (heru Darmawan), Pinang Coal (Hakim Nur Huda) serta beberapa nama peserta yang ikut secara personal. Semoga apa yang didapat dari Training Nebosh Oil and Gas Operational Safety ini bisa bermanfaat bagi bapak/ibu sekalian dan perusahaan tempat bekerja. Sampai jumpa di training – training lainnya yang diselenggarakan oleh PT. Phitagoras Global Duta.
Testimoni Training NEBOSH
Berikut beberapa testimonial yang kami kutip dari peserta training nebosh ITC in Oil and Gas Operational Safety Batch XVI :
"Well organized course, the trainer well knowledge & provided good support to all participant to achieve our aim & Objective. The training coordinator (Tasya) so friendly & helpful for logistic needed during the course. The batch of course really enjoy & built good network within HSE people in Indonesia. Bandung is the best option for participant to attend the course easy access, good hotel training facilities. Keep it up Phitagoras!!! Be leading the best safety training provider in Indonesia" yadi Kusmayadi, Leighton Offshore PTE. LTD
"It is good to have the trainer with the industrial background so that all questions or concerns will be explained clearly and logic." Mochamad Rizal Bustomi, Expro Indonesia
"Intresting view when it come about the safety for oil and gas. i found that this could by expand my horizon for HSE after for the past 8 years working in HSE Of Mining Environment" Hakim Nur Huda, Pinang Coal
"Quite challenging & essential for anyone in oil & gas industry. with qulified & experienced trainer this is a training that shouldnt be missed" R. Amino Irvany, PT. AKR Corporindo Tbk
"This training is designed to cover many aspect in oil and gas industry with not only HSE perspective to look from, but alos the operational and practicality of implementing these HSE control measures. By going through this course, participants will be able to fill in the "Missing Link" that most of the time exist between operation and safety personnel, can be cause if an incident in work place. Gery Achsan, Pertamina Hulu Energi (PHE)  Nunukan
Silahkan klik disini untuk melihat testimonial lainnya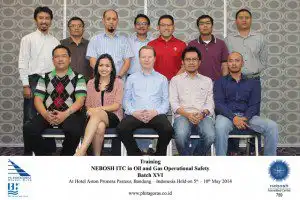 Share on Whatsapp