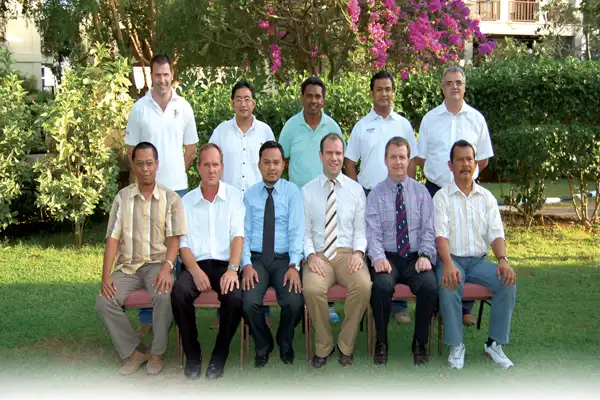 Alhamdulillah, akhirnya Training NEBOSH International General Certificate in Occupational Safety and Health angkatan V, yaitu training health and safety dengan sertifikasi internasional dari NEBOSH – UK. berhasil kami selenggarakan pada tanggal 3 – 15 Agustus 2009 di Hotel Novotel Nusadua Bali bekerjasama dengan partner kami yaitu KB Associates, Singapore.
Training NEBOSH kali sangat berkesan karena selama 12 hari mengikuti training dan ujian, para peserta menunjukkan antusiasme yang besar dan rasa kekeluargaaan serta kebersamaan seluruh peserta training. Dan peserta kali ini sangat beragam, karena datang dari berbagai negara seperti: Mr. Desmond Kennedy dari Howden China, Pak Zelio Moniz dari Autoridade Nacional do Petróleo (timor leste), Pierre -Yves Roussilhon (self sponsored dari Perancis), Pak Christian Siregar dari Geokinetics Indonesia, Pak Nasrul Hudaya dan Mr,. Chad Harding dari Samudera Oceaneering, Pak Agus Adas dari Salamander Energy, dan Bapak Agus Supriyanto dari Total E&P Indonesie.
Terimakasih atas seluruh partisipasi peserta training NEBOSH kali ini, semoga pada pengumuman kelulusan di Bulan September nanti, semua peserta bisa lulus, amiin.
Silahkan klik disini untuk jadwal NEBOSH selanjutnya
Please read our privacy policy

Share on Whatsapp