Training NEBOSH IGC in Occupational Health and Safety
Phitagoras bekerjasama dgn KBA Training Centre Singapore telah menyelenggarakan Training NEBOSH International General Certificate in Occupational Safety and Health angkatan ke XVI, yaitu training health and safety dengan sertifikasi internasional dari NEBOSH – UK. Training NEBOSH tersebut di selenggarakan pada tanggal 2 – 14 December 2013 di Hotel Novotel Nusa dua Bali.
Peserta training NEBOSH IGC kali ini diikuti oleh 15 orang peserta dan dari berbagai macam perusahaan, yaitu Dhareta, Sasanawati, Hery Prastowo, Supriyono (BP Berau), Dika Chandra Yuana (BP Indonesia) Indra Rahmansyah (Chevron Indonesia) Muhammad Nur, Faris Syauki (Chevron Pacific Indonesia) Agung Wahyu Riyadi, I Made Ariana Putra (Syngeta), M. Reza Saputra (Total E&P Indonesie),  Syamsul Yusuf (PT. Teknika Regulindo Asia), serta beberapa nama peserta yang ikut secara personal.
Terimakasih atas seluruh partisipasi peserta training NEBOSH IGC batch XVI, semoga pada pengumuman kelulusan nanti, semua peserta bisa lulus, aamiin.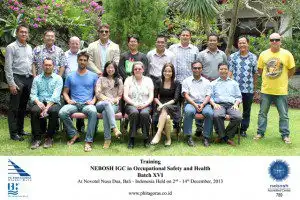 Share on Whatsapp