Training NEBOSH IGC in Occupational Health and Safety
Phitagoras bekerjasama dgn KBA Training Centre Singapore telah menyelenggarakan Training NEBOSH International General Certificate in Occupational Safety and Health angkatan ke XVIII, yaitu training health and safety dengan sertifikasi internasional dari NEBOSH – UK. Training NEBOSH tersebut di selenggarakan pada tanggal 2 juni – 14 Juni 2014 di Hotel Kuta Beach Heritage Bali.
Peserta training NEBOSH IGC kali ini diikuti oleh 17 orang peserta dan dari berbagai macam perusahaan, yaitu Charles Wesli Marpaung (PT. Bredero Shaw Indonesia), Seto Tamino (Chevron Indonesia Company) Dedy Setyanto (DHL Global Forwarding) Acam Sawil, Hendro Kasmudji  (Genting Oil Kasuri Pte. Ltd) Yodi Fitrio (PT. Glaxo Wellcome Indonesia), Michael Jogn Hawkins (Offshore Marine Service), Jhonson Siahaan (Shelf Drilling), Mindalena (PT. Samson Tiara), Gatut Bagus Budi Utomo (PT. Supraco Indonesia), Matthew Douglas Keller (Vantage International Management Company), Orig Setianto Hartoyo, Suhadiyatno, Andhika Aryaguna (Total E&P Indonesie) serta beberapa nama peserta yang ikut secara personal.
Terimakasih kepada seluruh partisipasi peserta training NEBOSH IGC batch XVIII, semoga pada pengumuman kelulusan nanti, semua peserta bisa lulus, aamiin.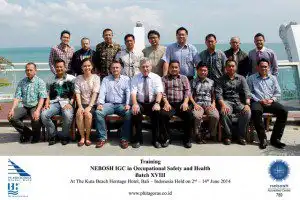 Share on Whatsapp