Training NEBOSH IGC in Occupational Health and Safety Batch XX
Alhamdulillah, di awal bulan Desember 2014 ini kembali PT. Phitagoras Global Duta bekerjasama dgn KBA Training Centre Singapore telah menyelenggarakan Training NEBOSH International General Certificate in Occupational Safety and Health angkatan ke XX, yaitu training health and safety dengan sertifikasi internasional dari NEBOSH – UK. Training NEBOSH tersebut di selenggarakan pada tanggal 1 – 13 Desember 2014 di Kuta Beach Heritage Hotel – Bali.
Peserta training NEBOSH IGC kali ini diikuti oleh 14 orang peserta dan dari berbagai macam perusahaan, yaitu Roni H Zulkarnain, Rizqy Fajar Arfianto (PT. Badak LNG), Aulya Nuraini I.G Made Fredy Layteryanto, Ted Anthony Manning (BP Berau LTD) Romeld Risyaputra, Radit Trianggara Putranto (Job Pertamina – Talisman Jambi Merang) Aventinus Zebua (Lundin Petroluem) Egor Podolskii (NABORS DRILLING INTERNATIONAL LIMITED), Nurhadi Budi Kurniawan (PT. Nawakara Persada Nusantara), Yusuf Nanda (PT. Scomi Oiltools), Eddy Wiedyartono (SAKA INDONESIA PANGKAH LIMITED), Poomthep Pinkham (Sapura Kencana Drilling Asia Limited), Chandra (Wintermar).
Terimakasih kepada seluruh partisipasi peserta training NEBOSH IGC batch XX, semoga pada pengumuman kelulusan nanti, semua peserta bisa lulus, aamiin.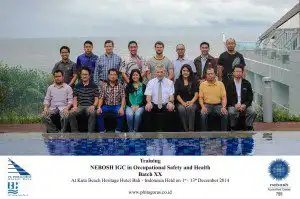 Share on Whatsapp