TRAINING ISO 45001:2018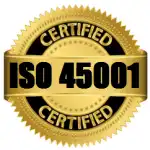 ISO 45001: 2018 – standar internasional baru untuk sistem manajemen kesehatan dan keselamatan kerja telah diterbitkan pada 12 Maret 2018 oleh International Organization for Standardization (ISO). ISO 45001 akan menggantikan OHSAS 18001, yang telah banyak diadopsi bersamaan dengan sejumlah standar nasional lainnya. Organisasi yang disertifikasi untuk OHSAS 18001 akan memiliki tiga tahun untuk bermigrasi ke standar baru sebelum OHSAS 18001 ditarik pada bulan Maret 2021.
GARIS BESAR PROGRAM TRAINING ISO 45001:2018
Occupational Health & Safety Introduction
Annex SL Appendix 2 and the framework for the new ISO high level structure
Summary of Key Changes between OHSAS 18001:2007 & ISO 45001:2018
Overview of ISO 45001:2018
Action Plan for Implementation
Certification Process of ISO 45001:2018
Workshop / simulation / case study
MANFAAT ISO 45001:2018
Setelah mengikuti  Training ISO 45001:2018 ini, diharapkan peserta akan dapat
Persyaratan tambahan / perubahan dalam ISO 45001:2018 bila dibandingkan dengan OHSAS 18001: 2007
Memahami apa dampak dari Annex SL (apa itu Annex SL dan pengaruhnya dalam semua Standard Sistem Manajemen)
Peserta dapat memahami apa saja yang perlu direvisi dalam sistem manajemen kesehatan dan keselamatan kerja Anda saat ini
Peserta dapat memahami berapa lama waktu yang dimiliki oleh peserta sebelum perubahan dari OHSAS 18001 ke ISO 45001 menjadi mandatory.

SIAPA YANG PERLU MENGHADIRI TRAINING ISO 45001:2018 INI?
Yang perlu menghadiri training training ISO 45001:2018 ini adalah HSE Dept, Operation/Production Manager, HRD Manager, Training and Development Manager, Management Representative (MR), Superintendent/Supervisor, Tim penerapan SMK3 PP No.50: 2012 / ISO 45001:2018, dan semua yang terkait dalam pengembangan HSE / Keselamatan dan Kesehatan Kerja (K3) di perusahaan
DURASI TRAINING TRAINING ISO 45001:2018 :  14 jam efektif (2 hari kerja)
TRAINER TRAINING TRAINING ISO 45001:2018 :
Dr. Bambang Murtjahjanto, M.Sc, P.E
Soehatman Ramli, Ir, Dipl.SM
 
JADWAL TRAINING ISO 45001:2018
Jakarta, 27 – 28 Februari 2019
Jakarta, 11 – 12 April 2019
Jakarta, 23 – 24 Mei 2019
Jakarta, 27 – 28 Juni 2019
Jakarta, 15 – 16 Agustus 2019
Jakarta, 28 – 29 November 2019
Jakarta, 3 – 4 Desember 2019
INVESTASI TRAINING ISO 45001:2018

Rp. 5.000.000,- Rp. 4.499.000 (Harga Normal)
Rp. 3.999.000,- (Pendaftaran & Pelunasan 1 minggu sebelum training)
Gratis orang ke 5, untuk pendaftaran 4 orang dari satu perusahaan
Fasilitas Training: Modul Training yang berkualitas (hardcopy dan softcopy), Training Kit, Souvenir, Tempat training yg nyaman di hotel berbintang, Makan Siang, coffee / tea break, Sertifikat & Foto bersama seluruh peserta
FAQ ( Frequently Asked Question)
Silahkan klik link ini atau link Frequently Ask Question untuk mengetahui pertanyaan – pertanyaan yang sering dilontarkan seputar Training ISO 45001:2018 yang kami selenggarakan.
Phitagoras sudah disertifikasi ISO 9001:2015 oleh BSI dengan nomor sertifikat FS 669848 dan OHSAS 18001:2007 dengan nomor sertifikat OHS 669850
Silahkan klik dibawah ini untuk download silabus :

Pendaftaran Awal Training

Share on Whatsapp