TRAINING HAZOPS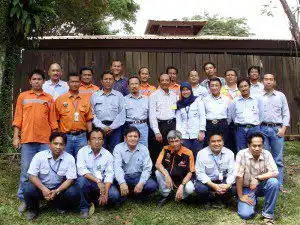 Alhamdulillah, Phitagoras dipercaya untuk memberikan in house training HAZOPS di PT. Kaltim Prima Coal (KPC) pada tanggal 22 – 24 Februari 2010.  Training HAZOPS tersebut di fasilitasi oleh Bapak Soeprapto dan Bapak Robert Sugihardjo, senior consultant Phitagoras . Training HAZOPS tersebut di ikuti oleh 25 orang.
Training HAZOPS tersebut membahas materi seperti berikut ini:
• Introduction and course objectives
• Basic introduction to the risk assessment process
• Different hazard identification techniques
• Hazard & Operability Study: Basic Concept & Methodology, Terminology
• The role of the chairman, secretary and the team members
• Risk ranking at the HAZOP study
• HAZOP process in detail including the follow-up and review process
• Detailed look at the HAZOP process
• Introduction to technique for procedural HAZOP
• Procedural HAZOP exercise including discussion of results
• HAZOP actions/recommendations and HAZOP reports
• Introduction to the HAZOP 2 technique
• Advantages and disadvantages of the HAZOP technique
• Pointers for effective HAZOPs
• Course review including question and answer session
Terimakasih kepada manajemen, HSE dept KPC dan seluruh peserta, semoga training HAZOPS tersebut bisa bermanfaat. Sampai jumpa di training phitagoras yg lainnya.
Jika anda tertarik mengikuti training HAZOPS ini, silahkan mencocokkan jadwal anda dengan meng klik link ini
TESTIMONIAL PESERTA TRAINING HAZOPS :
"Dengan adanya training Hazops yang diselenggarakan oleh PT. Phitagoras Global Duta ini, Kami dari pihak engineering dapat menyerap masukan dari maintenance dan operation yang berguna dalam modifikasi fasilitas di plant, upgrade maupun pembangunan plant/fasilitas baru dalam rangka ekspansi perusahaan. Hazops studi ini akan mempermudah proses serah terima plant dari engineering selaku pelaksana project kepada operation maintenance. "Alfa Lailiy, KPC.
"Training Hazops yang diberikan oleh instruktur yang pengalaman di bidangnya serta telah menerapkan Hazops dalam waktu yang panjang di berbagai area, membuat training ini sangat bermanfaat dalam membekali ilmu bagipara calon anggota (pelaku) Hazops. "Gunawan Muhammad, KPC.
"Topik Hazops adalah topik spesifik, hanya bisa dibawakan oleh orang yang dengan intens melakukan hal tersebut. dalam hal ini phitagoras memenuhi kriteria tersebut. dengan memberikan trainer yang sangat berpengalaman, bahkan sudah puluhan tahun bergelut disitu, yang perlu di improve supaya excellent adalah tampilan hand out supaya lebih enak di bawa dan di baca-baca, akhirnya saya merasa puas dengan training hazops ini. "Es Heru Praptono, Ir. KPC.
Jika bapak/ibu berencana untuk menyelenggarakan training hazops di perusahaan bapak/ibu, silahkan menghubungi Phitagoras di 021 70270400 / 70303196 atau melalui form berikut ini:

Share on Whatsapp