Pelatihan NEBOSH
Phitagoras bekerjasama dgn KBA Training Centre Singapore telah menyelenggarakan Pelatihan NEBOSH angkatan IX, yaitu Pelatihan health and safety dengan sertifikasi internasional dari NEBOSH – UK. Pelatihan NEBOSH tersebut di selenggarakan pada tanggal 14 – 26 Maret 2011 di Hotel Novotel Nusa dua Bali.
Materi Pelatihan NEBOSH
Adapun materi yang disampaikan pada pelatihan NEBOSH adalah sebagai berikut
Health and Safety Foundations
Setting policy for health and safety
Organising for health and safety
Promoting a positive health and safety culture
Risk Assessment
Principles of Control
Movement of people and vehicles Hazards and control
Manual and Mechanical handling hazards and control
Work Equipment hazards and control
Electrical Hazards and control
Fire Hazards
Chemical and biological health hazards and control
Physical and psychological health hazards and control
Construction activities and control
Investigation, recording and reporting of events
Monitoring, review and audit
Peserta kali ini sangat beragam, yaitu Agus Siswanto (TOTAL EP), Nugroho Eko Lelono (TOTAL EP), Bayu Prakoso (TOTAL EP), Arief Budiman (TOTAL EP), Ahmad Sabri (PT. Transocean Indonesia), Dwayne Te Aho (Maersk Drilling)
Terimakasih atas seluruh partisipasi peserta training NEBOSH kali ini, semoga pada pengumuman kelulusan nanti, semua peserta bisa lulus, amiin.
Jadwal Pelatihan NEBOSH 2012
Silahkan cek jadwal pelatihan NEBOSH selanjutnya dibawah ini
March 14 – 26, 2011 at Bali – Indonesia (running on schedule)
July 11 – 23, 2011 at Bali – Indonesia (running on schedule)
14 – 26 November 2011 at Bali – Indonesia (running on schedule)
20 February – 3 March 2012 at Bali – Indonesia (running on schedule)

11 – 23 June 2012 at Bali – Indonesia (running on schedule)

1 – 13 October 2012 at Bali – Indonesia
26 November – 8 December 2012 at Bali – Indonesia
Untuk mendapatkan informasi mengenai Pelatihan NEBOSH, silahkan menghubungi Phitagoras di 021 70270400 / 70303196 atau dengan mengisi form berikut di bawah ini: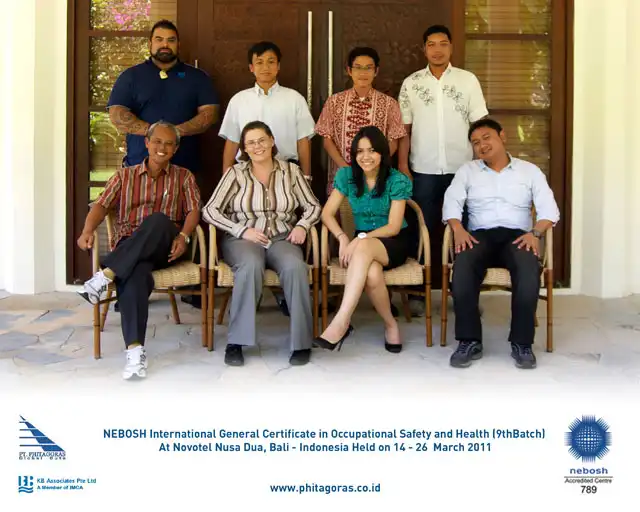 Share on Whatsapp