Phitagoras bekerjasama dgn KBA Training Centre Singapore telah menyelenggarakan Training NEBOSH International General Certificate in Occupational Safety and Health angkatan VIII, yaitu training health and safety dengan sertifikasi internasional dari NEBOSH – UK. Training NEBOSH tersebut di selenggarakan pada tanggal 11 – 23 October 2010 di Hotel Novotel Nusa dua Bali.
Peserta kali ini sangat beragam, karena datang dari berbagai negara seperti yaitu Muhammad Idham, Donny Axner (Tesco Indonesia), Nikko Widity Awan (SPC Mahakam Hilir Pte Ltd) , Edison Yanuardi Santoso (Apexindo), Beni Wijaya (PT. Total E & P Indonesie), Noy Indlith (Salamander Energy Laos), Herlan Widodo (PT. Kaltim Pacifik Amonida), Subur Darmanto, (PT. Total E & P Indonesie),  Anupong Torranin (Salamander Energy Thailand), dan Joseph Samet Sudiro.
Terimakasih atas seluruh partisipasi peserta training NEBOSH kali ini, semoga pada pengumuman kelulusan nanti, semua peserta bisa lulus, amiin.
Silahkan klik disini untuk jadwal NEBOSH selanjutnya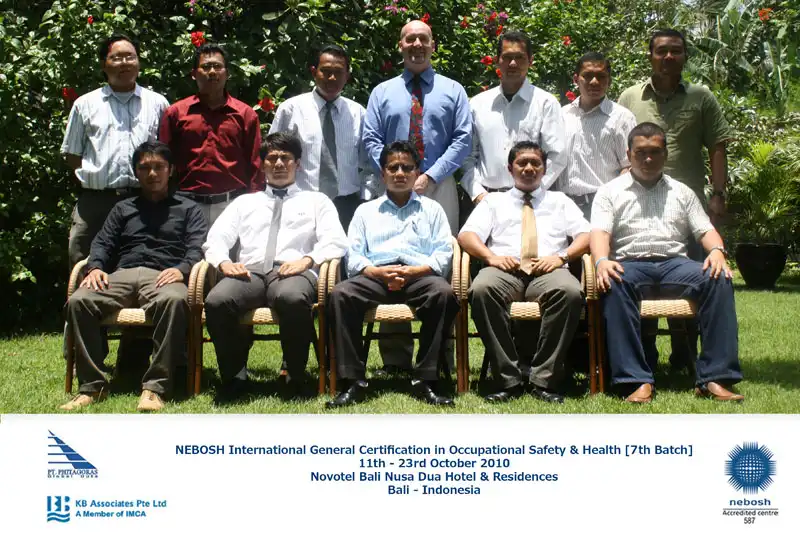 Please read our privacy policy

Share on Whatsapp