Alhamdulillah, pada tanggal 14 – 21 Juni 2014, Phitagoras Training & Consulting dipercaya kembali untuk memberikan In House Training  Basic Of Health and Safety untuk PT. KSO Sucofindo Surveyor Indonesia. In House training Basic health safety ini diselenggarakan di Hotel Bidakara Jakarta dan dipandu langsung oleh Konsultan Phitagoras yaitu Bapak Dr. Abdul Baktiansyah MKK, SPOK.
MANFAAT TRAINING BASIC SAFETY
Meningkatkan kesadaran peserta terhadap pentingnya tindak pencegahan kecelakaan dan menggugahnya untuk mendorong karyawan dilingkungan kerjanya agar mau melakukan tindakan pencegahan kecelakaan.
Meningkatkan pengetahuan peserta akan upaya pencegahan kecelakaan dilingkungan kerjanya.
Meningkatkan moral Perusahaan dan karyawan serta mengurangi resiko kerugian bagi Perusahaan
MATERI TRAINING BASIC SAFETY
• Occupational Health & Safety Program
• Risk Assessment & Risk Management
• Hazard Prevention & Control
• Safe Work Permit
• Job Safety Analysis
• Accident Investigation
• Confined Space Entry
• Emergency Response
• Hazard Communication
• Occupational Health and Safety Management System
Inhouse Training  tersebut diikuti oleh kurang lebih 28 orang peserta. berikut beberapa testimonial dari para peserta training Basic of Health and Safety :
"Menambah wawasan tentang K3 di dalam perusahaan, yang sangat penting untuk di terapkan di dalam organisasi perusahaan. Yudi Ari W PT. KSO Sucofindo Surveyor Indonesia"
"Baik. Mulyadi, PT. KSO Sucofindo Surveyor Indonesia"
"Materi yang luar biasa dan bermanfaat. M. Faliqul Asbah PT. KSO Sucofindo Surveyor Indonesia"
Kami ucapkan rerima kasih kepada PT. KSO Sucofindo Surveyor Indonesia, semoga apa yang diterima dalam training tersebut dapat bermanfaat bagi seluruh peserta dan dapat diterapkan diperusahaan. Semoga kita bisa berjumpa lagi di training phitagoras lainnya.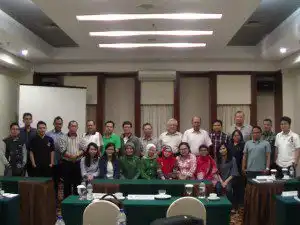 Share on Whatsapp